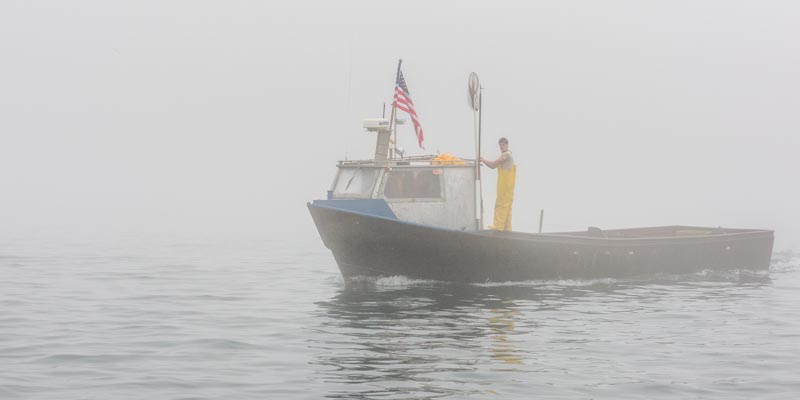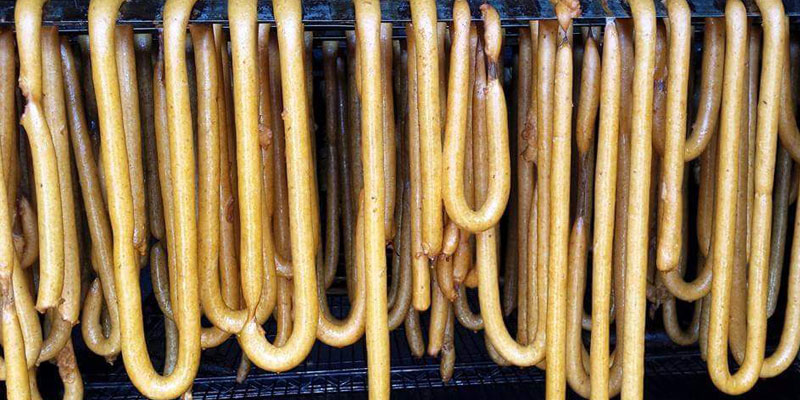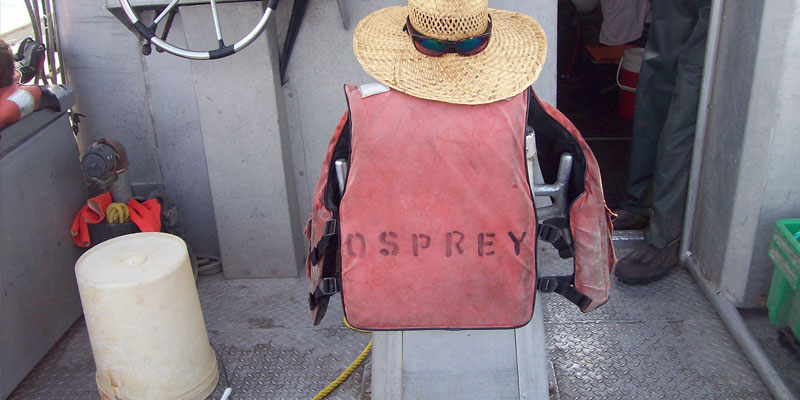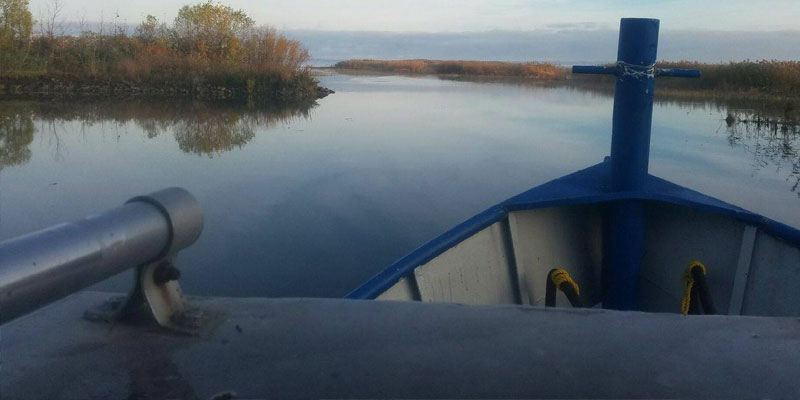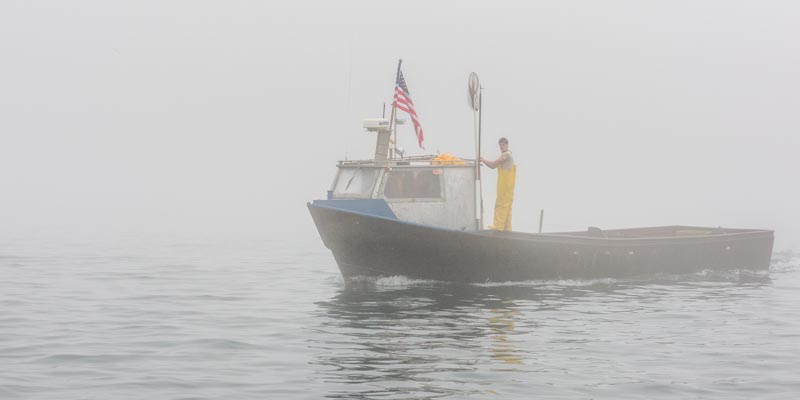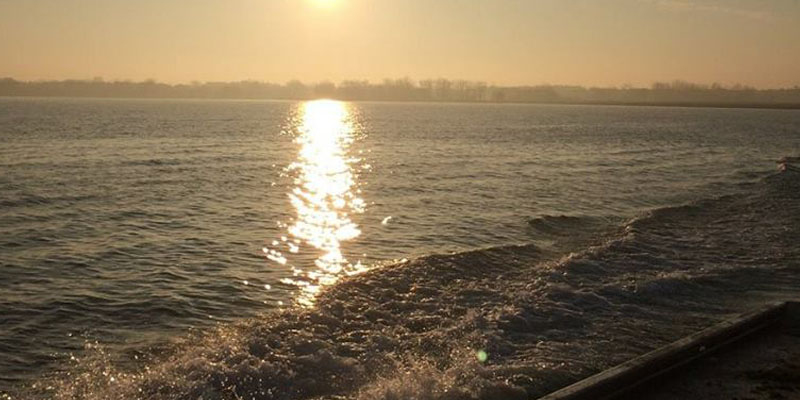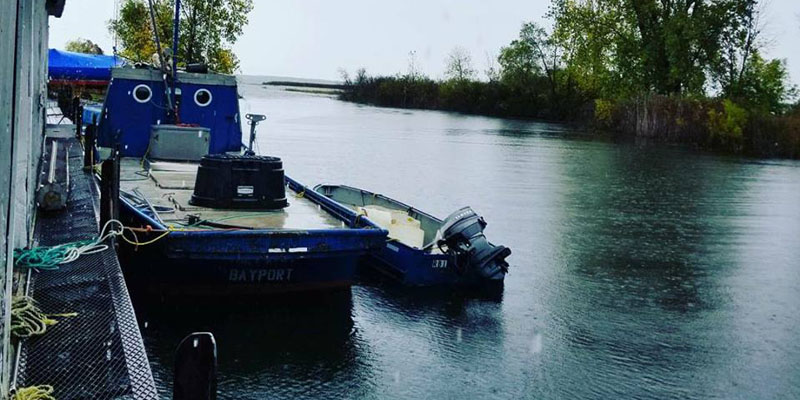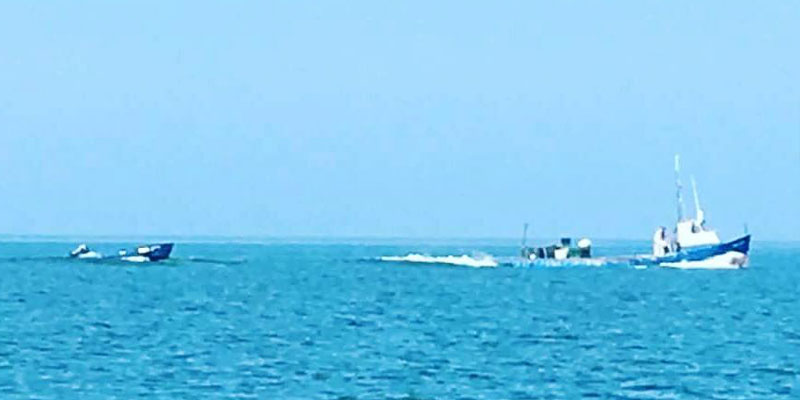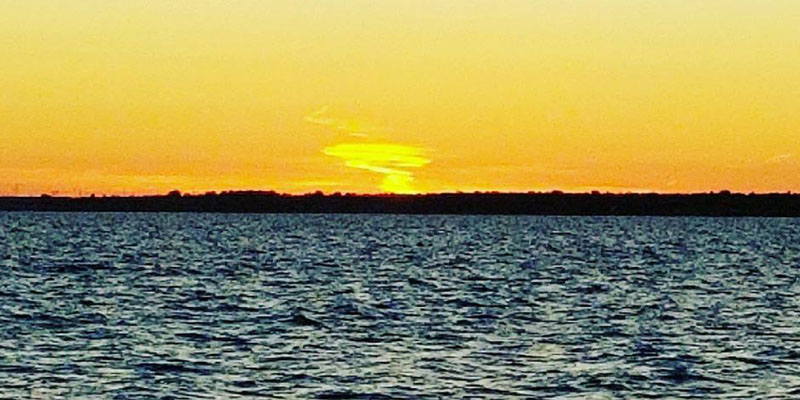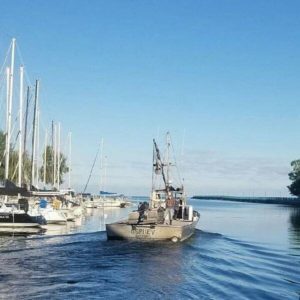 BAY PORT FISH CO.
The Fish Caught the Williams Brothers, and Their Best Fish Are Becoming
Legends.
Click To Read Their Story
The osprey is a large fish eating bird, with a variety of live fish accounting for about 99% of its diet. Tod Williams' Osprey is a 50 foot commercial fishing boat. Rigged with trap nets, it hauls in 6,000 pounds of whitefish on a good day, then chugs her way back to her temporary port in Caseville. The Osprey isn't just any boat to Tod; he built her himself, under the direction of local expert boat builder Fred Brown. She's served him and the Bay Port Fish Company crews well, faithfully weathering the volatile conditions on shallow Saginaw Bay.
Commercial fishing was not the career Tod had in mind when he was growing up. He doesn't come from a long line of fishermen. In fact, he tried his hand at being a cowboy in Nebraska after he left Michigan State University. It wasn't long, though, before he returned to Michigan, where his brother Forrest had been working in the hotel industry.
The Williams brothers bought the state-licensed Bay Port Fish Company from Henry Englehard, who had started the community's Fish Sandwich Festival. Some folks told them they were crazy, but the fishery certainly captivated them and, after all, the Bay Port slogan is "Fish caught the man."
They learned what they could from experienced fishing captains such as Ralph Cross and Ross Lange, and they kept at it. They tried different gear, such as the purse seine, and did some research. They first tried catching perch and catfish, and then got into whitefish. They see lots more whitefish now than in their early days 30 years ago, but they also struggle with low water (which is why they're docking at Caseville temporarily instead of Bay Port), changes in the habitat and invasive species such as zebra mussels. Tod says, "When zebra mussels attach to the nets, it feels like a net full of cement!"
Tod says he really likes being his own boss, working in the fresh air with good people and providing a healthful product. About the only down side to commercial fishing, Tod says, is pulling up nets in foul weather.
The Bay Port Fish Company is always looking for good opportunities, such as selling some of their catch at farmers' markets, where clientele appreciate buying fresh fish directly from the fishermen and getting some tips on taste tempting techniques. The Williams' experience in the hospitality industry has taught them much about customer service and providing a quality product. The fishery is now managed by Tod and his daughter Lakon Williams.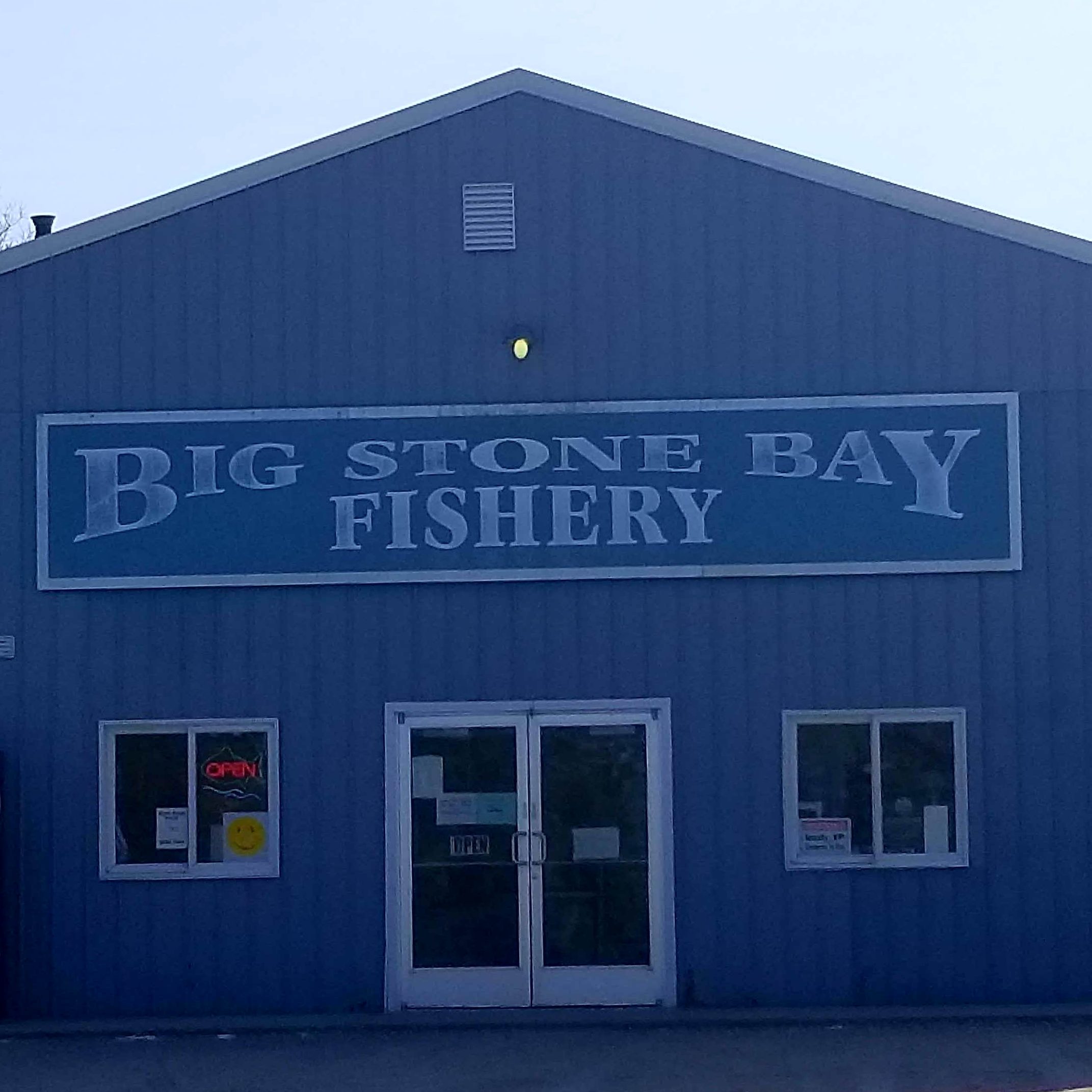 BIG STONE BAY FISHERY
A fleet of fish trucks and a boat.
Click To Read Their Story
Cameron McMurry of Big Stone Bay Fishery doesn't have family heritage in commercial fishing. He apprenticed with Mackinaw City's Bell's Fishery for 10 years as a young man and learned enough about the business to start his own wholesale, retail fish market.
In the 35 years of business, with family and a great crew of employees we have provided millions of meals for the public.
In 2006 we bought our first fishing boat, a gill net tug and a chub license. In 2017 we purchased a trap net boat and commercial fishing license from the Rochfort family. Our boys are, hopefully looking forward to many fishing seasons to come, and who knows maybe their offspring will be fishers too.
"From our lakes to your plates"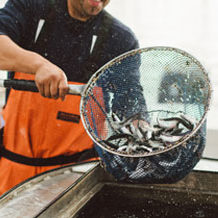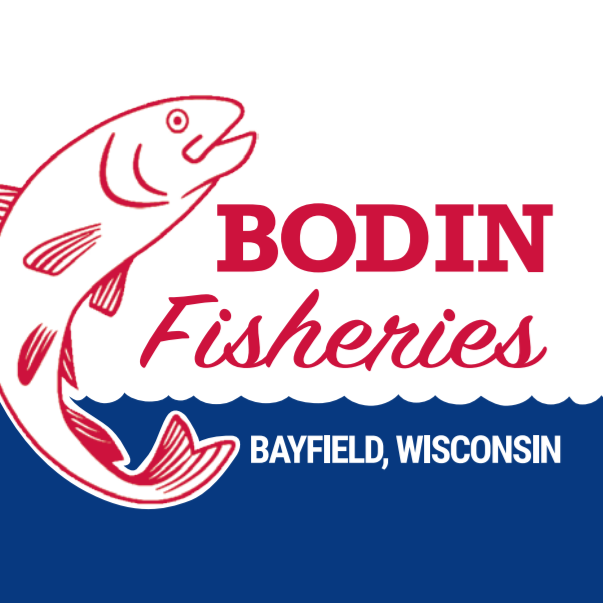 BODIN FISHERIES
Fresh from the lake to your plate!
Click To Read Their Story
Bodin Fisheries has been operating around the Apostle Islands region of Lake Superior since the 1880's. Now well into the 5thGeneration, Bodin continues to provide fresh, frozen and smoked Whitefish, Lake Trout and seasonally, Herring and Smelt, to consumers, restaurants, grocery stores and other distributors all around the Midwest.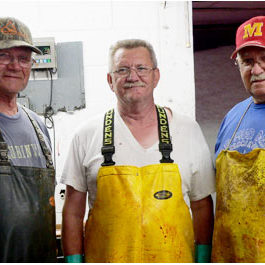 CARL FRAZIER
Fraziers persist with fishing 'in their blood.'
Click To Read Their Story
Near the "top" of Lake Michigan lies the little town of Naubinway, meaning Place of Echoes in Ojibwe. The echoes of the lumbering operations that first attracted Europeans to the area have long since faded from the memory of all but the most historically minded. The fishing families that followed the loggers and lumber barons have managed to sustain their livelihood, but not without significant struggles.
The Frazier brothers–Carl, Don and Allen–are from such a family, determined to wrest a living from the lakes and from government regulators who implement legal consent decrees and can determine who can fish commercially and where.
The Frazier brothers' grandfather started fishing part time in the 1920s, and the boys became interested in what he was doing. As a young man, Carl worked for a while with Bob Sellman in Manistique, where he learned a lot more about the business. And when whitefish started coming back in the mid '60s, Carl and Don started fishing under the ice, while their brother Allen managed the processing shed.
At first they fished gill nets, but switched to trap nets when the Bureau of Indian Affairs required it. "We had the boats paid off and thought we were going to be able to save some money for a rainy day or retirement. But they disqualified us from fishing by rejecting our tribal documentation, and it took more than 10 years and lots of money to be recognized. Now we're adopted members of the Sault tribe," Carl says.
"It's great to be back on the water, almost like being reborn," he adds. "We love fishing; it's hard to get it out of your blood. Fishermen are the most independent people in the world."
Not surprisingly, then, Fraziers like being their own boss. It's a new challenge every day, whether getting back into the Swedish market or competing with government subsidized product from Canada. "We're certified with the Food and Drug Administration's Hazard Analysis and Critical Control Point program and we provide premium whitefish fillets. We also smoke fish and dress some, so we're pretty versatile," Carl says.
Coping with those challenges is one thing; ridding the lakes of invasive fish species and zebra mussels (and the associated slimy Cladophora that fouls their nets) is something beyond their control. Frazier thinks lake managers need to be more careful with regulations to prevent further damage to the fishery.
As much as he personally enjoys the fishing life, Carl doesn't expect his son to follow in his footsteps. He has a college degree and works in southern Michigan, and Don's sons are employed by another area fishing family.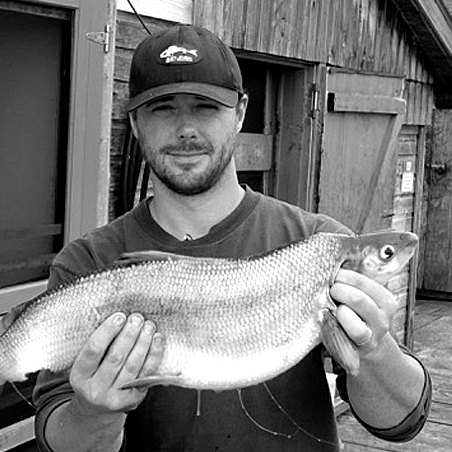 CARLSONS FISH
"If you take care of the fish, you take care of everybody."
Click To Read Their Story
For more than a century now, the Carlson family has operated this fishery in beautiful northwestern Michigan. Starting with Nels, who emigrated from Norway, to Will, Lester, Bill and now fifth generation Nels Carlson, they've handed down the tradition, adapted and transformed their small dock in Leland into historic Fishtown.
Now, over 100 years later, they've handed down the family's fishing tradition five times, and adapted their dock in Leland into historic Fishtown.
From the time he was 11 years old, Bill Carlson was roping the nets on the reels, cleaning the fish and selling them, too, especially during the summer. In 1965, he took a break from his college studies to help the family when his uncle Gordon became too ill to work. He's been in the fishing business ever since.
Along the way, the Carlson family has used a variety of gear for different target species, including small mesh gill nets for chubs, large mesh gill nets for whitefish, developing a purse seine, converting to trap nets for whitefish. Their experience has run the gamut—from changes in government management priorities, to revisions in fishing territories, to adjustments in quotas, to fish population dynamics, to contaminants, to invasive species.
Through it all, the Carlson family did what they could to help create an environment conducive to a sustainable business. They worked with the Michigan Fish Producers Association, the Department of Natural Resources, Michigan Sea Grant, trying to educate others in the industry about the importance of structure and planning to enhance stability…"not just for what we can catch today, but for what might be available tomorrow."
Bill Carlson considers himself and his family fortunate to remain in the business. In order to do that, they sold the Fishtown property, fishing licenses and gear to the not-for-profit Fishtown Preservation Society, with the provision that they be able to continue operating their retail business at the dock.
One way the Carlson family has maintained its livelihood over the years is through developing value added products—smoked fish, whitefish sausage and fish pâté—that have proved popular enough to be imitated by others in the business.
Bill makes no secret of his concern for the lakes, especially the fish populations that invasive species have assaulted. While he hopes that stability can prevail over such onslaughts, he has no illusions about how difficult, if not impossible, that will be. Still, he says with a ready smile, "If you take care of the fish, you take care of everybody."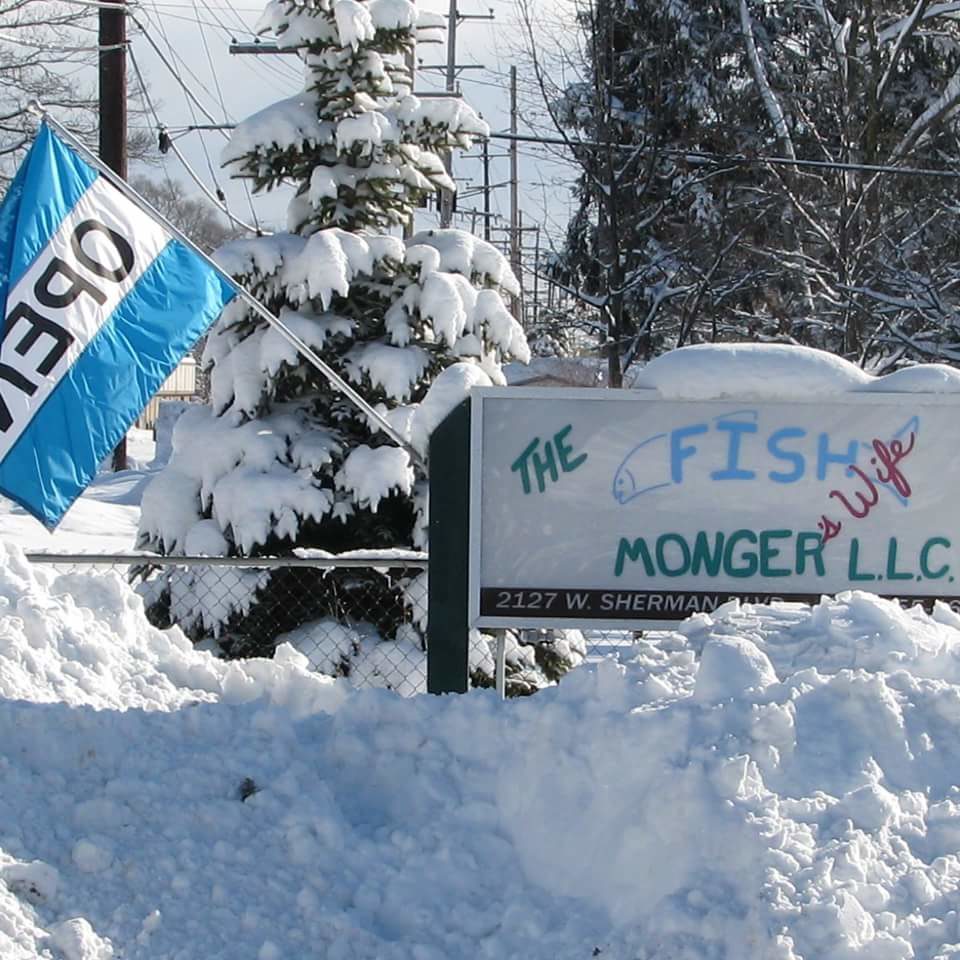 THE FISH MONGER'S WIFE
Lake Michigan's Finest
Click To Read Their Story
When Amber Mae first married Eric Petersen, she always joked that she was going to open a fish market and call it The Fish Monger's Wife. Eric thought the market was a good idea, but hated the name. After their first daughter Anna, was born, the couple revisited the idea of opening a market. However, they didn't want the overhead or time commitment involved with a store front.
That's when they found the perfect solution–become a vendor at the Muskegon Farmer's Market. After an enthusiastic feedback from the market's manager, Eric and Amber started selling fresh whitefish fillets at the market in June 2010. And the name they chose… The Fish Monger's Wife.
"Eric still hates the name, but people love it. At the market I'm known as The Wife. The market staff doesn't even remember my real name," says Amber Mae.
Opening a retail business was completely new for Eric who has fished commercially with his family at Petersen's Fisheries since he was old enough to hold a dip net. Meanwhile Amber Mae grew up working with her own family's retail business.
"It's only natural for us to open our own business. We both grew up working with our parents and that's something we'd like to continue with our own daughter,' say Amber Mae.
Each week, the couple purchases fish from Petersen's Fisheries and then cleans, pin bones and packages the fish for greatest freshness. From there, Amber Mae takes the fillets to the Farmer's Market on Tuesdays, Thursdays and Saturdays.
So far, The Fish Monger's Wife has been a huge success at the Muskegon Farmer's Market. Area residents are initially surprised to see fresh, locally caught whitefish at the market, but then they are delighted.
To start off the couple plans to keep it simple by attending only one market. "Going to other markets would put Anna at a babysitter more and that's not why we did this. The business will have to grow as our family grows," says Amber Mae.
Amber Mae says with a laugh, "We have an agreement. Eric goes on the boat, I go to market and the two shall not cross. That's how we'll continue to have a wonderful marriage!"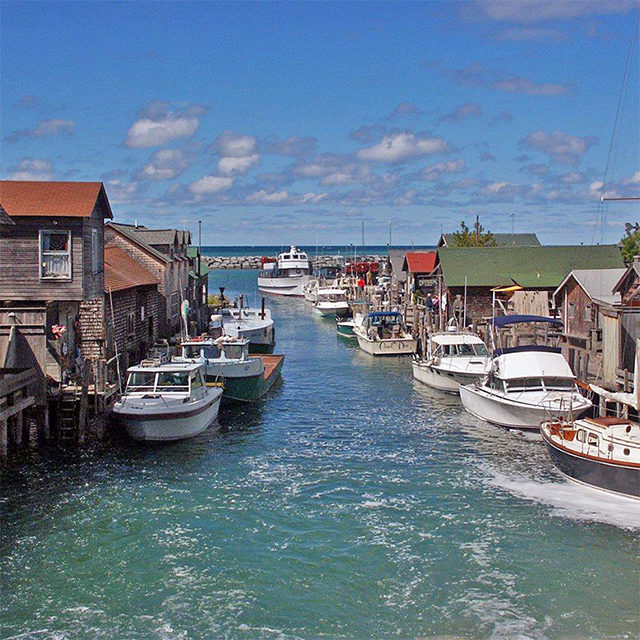 FISHTOWN
Visit our historical, authentic working waterfront for fish, shops, eateries and exhibits.
Click To Read Their Story
Fishtown is a collection of weathered fishing shanties, smokehouses, overhanging docks, fish tugs and charter boats along the Leland River, as it flows into Lake Michigan. Visitors and locals can still see active commercial fishing and feel a connection to maritime traditions. Fishtown Preservation is the non-profit that owns, maintains and preserves Fishtown — keeping it publicly accessible year-round. Fishtown Preservation works with skilled commercial fishermen to maintain and commercial fish with our fishing tugs Joy and Janice Sue. Joel Petersen, of Joel Petersen Fisheries, is the captain of the Joy and brings with him his knowledge of working with the multi-generational Petersen Fisheries, of Muskegon. Joel helps us continue to commercial fish for whitefish — bringing the catch into Carlson's Fishery. Carlson's processes ours and other locally caught fish, then retails fresh whitefish and trout — including pates and smoked sausage to local restaurants and Fishtown visitors. Our Fishtown Welcome Center exhibits share some of the heritage and stories of the Fishermen that made their livelihood from the same location that you can explore today. The Welcome Center's unique gift shop offers items reflecting Fishtown past and present, with all proceeds directly preserving Fishtown's future. Shops, eateries and exhibits are open April-October. Visit us at 203 W. River Street, Leland 49654 and FishtownMI.org or call 231-256-8878 for information or to make a donation.

THE FRESH LAKE WHITEFISH CO.
To Market, To Market, To Buy Some … Fresh Fish.
Click To Read Their Story
What might you expect to find at a mid-Michigan farmers' market on a sunny Saturday or Sunday? Fresh vegetables, of course. Freshly picked berries, perhaps. Possibly even a freshly butchered chicken. You might be surprised, but Carla Ebener hopes you'd be delighted to see a display of freshly caught whitefish, 90 miles from the nearest Great Lakes commercial fishing port.
Carla's family members and friends do the fishing, lifting the nets from lakes Superior, Huron, and Michigan and fillet the fish. But Carla and her husband Mark get the fish to market quickly…to farmers' markets in Flint, Lansing, East Lansing and Meridian Township…hundreds of miles from their Sault Ste. Marie home.
"Unless you went fishing and caught some that morning, my fish is fresher," she says with a smile.
Carla and Mark, a fisheries biologist with the Chippewa-Ottawa Resource Authority, hadn't really thought about selling fish directly to consumers. They made the rounds of mid-Michigan restaurants first, trying to develop a customer base. When that didn't pan out, Carla went home somewhat discouraged, but still determined.
She looked up farmers' markets and proposed the idea to Mark, who was a bit skeptical at first. However, she got a fairly positive response from the market manager in Flint and made all the necessary arrangements to set up their booth. "It was probably a blessing that we didn't get the restaurants," she says three years later.
As the Flint market proved successful, she recruited other family members and found a space at the hugely popular Meridian Township market. She also found a niche at the Lansing market and, most recently, in East Lansing.
Some customers like the whitefish fillets, many go for the smoked product and the White Caps spread. As the soft strains of nearby folk musicians accompany the easy conversation at the booth, Carla and Mark answer customers', share recipes, and encourage people to try new things.
"We enjoy what we do and have met a fantastic, diverse group of people in the Lansing area that keep coming back and thanking us for being here. And we have been popular because we have quality fish. We have the experience to take care of that fish and keep it fresh. The quality can't be beat."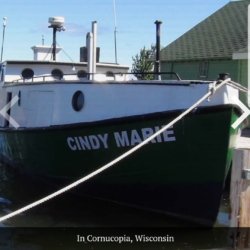 HALVORSON FISHERIES
We've been fishing in the clear waters of Lake Superior for more than 40 years, providing some of the cleanest, freshest fish you will find.
Click To Read Their Story
We've been fishing the clear waters of Lake Superior for more than 40 years. Lake Superior provides some of cleanest, freshest fish you will find. We fish off the shores of Bark Bay and Romans Point near the Apostles Island. Whitefish is the mainstay of our catch but the lake also is home to salmon, trout, herring and smelt.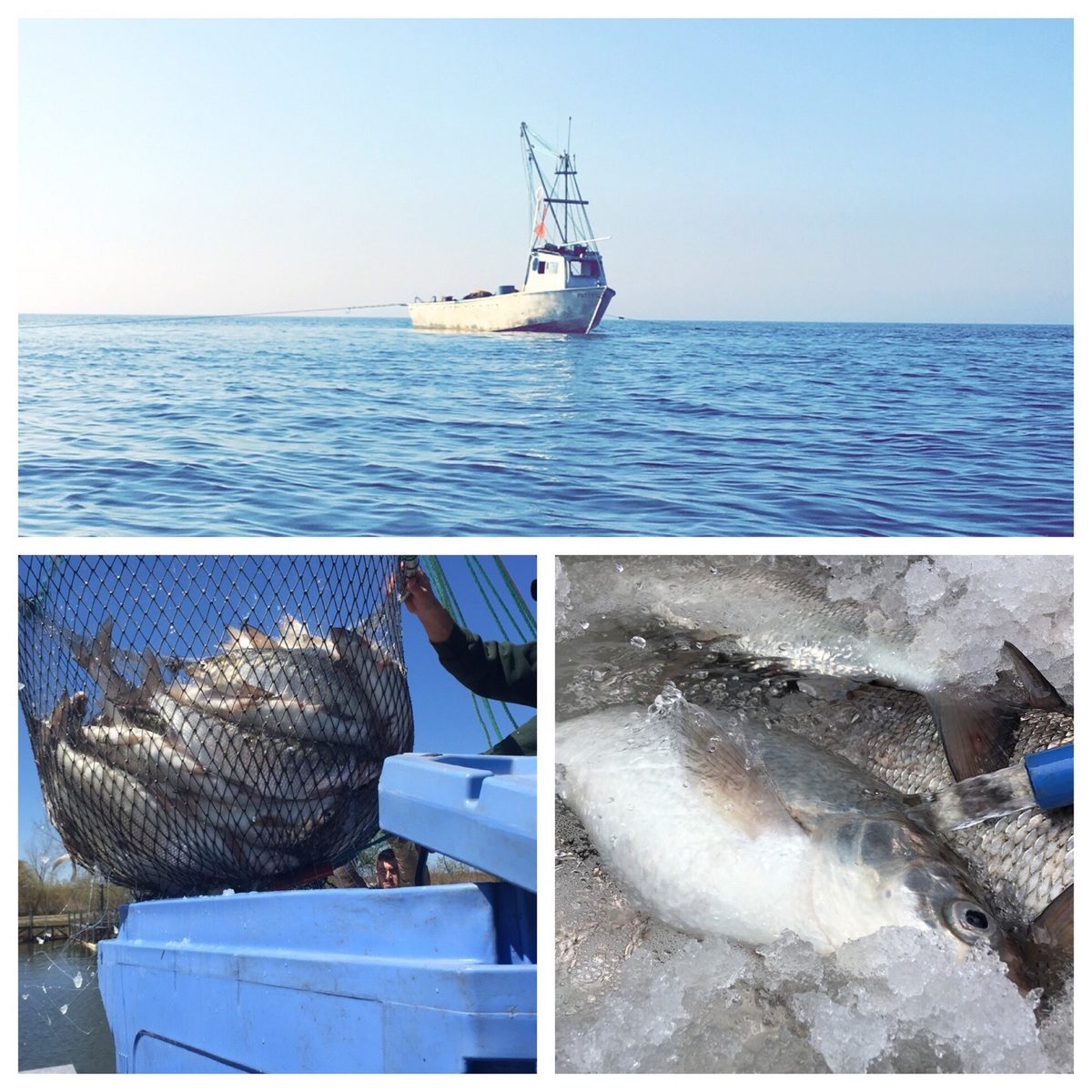 HAMEL AND SON'S FISHERY

Fresh Whitefish since 1869!
Click To Read Their Story
The Hamel family starting fishing in 1869 when Anthony Hamel took an interest when he was 15, he fished in the Cedarville Michigan. His second son, Robert Hamel followed his dads footsteps taking over Anthony's legacy. Jim Hamel is the current owner of the Hamel & Sons fishery and was the only son of Robert Hamel to show any interest in fishing. He has been fishing in Bay Port over 30 years, but has been fishing since he was a young boy aged 15. His boys, Harrison, Madison & Ethan, are the fourth generation in their family to take a love for commercial fishing. In 1985, Treaty rights for the Great Lakes were enforced and Jim was forced to move his fishery to Bay Port from Cedarville. He bought two licenses in Saginaw Bay, where he and his sons continue the tradition that will celebrate 150 years of harvesting Whitefish from Lake Huron this year.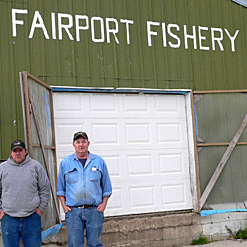 JOEL PETERSON: I.E. FAIRPORT FISHERIES
At the tip of Michigan's Garden Peninsula lies tiny Fairport which, as the name suggests, has docks for boats such as the Martha Jean, the Peterson brothers' 45 foot trap net fishing vessel.
Click To Read Their Story
Although they got experience in other occupations as young men, Joel and Ben are now the fifth generation of their family to fish these waters. They can't think of anything they'd rather do.
"We enjoy the independence, being on the water, being your own boss. There's no such word as 'you can't.' Providing wholesome food for others brings a great sense of fulfillment," Joel says. "If you haven't grown up in a fishing family, you might not understand."
In 1976 the brothers and their father Hector formed the Three Ps Fishing Company and worked together until their father retired in 1982. They worked as many as 18-20 gillnets in the '60s and early '70s, fishing for a variety of species. In 1973-74, they converted to trap net boats and eventually built the Martha Jean from aluminum. It's more fuel efficient, and they're especially pleased that they've never had to paint it. Now lake whitefish are the vast majority of their catch.
"Once you get it in your blood, you might need a transfusion to get it out," chuckles younger brother Ben, recalling the phrase from a sage older fisherman.
"It's definitely in ours," says Joel. He thinks it was so good to grow up in a fishing family that he wants his children to experience the same, and they are. "I think they're hooked," says their proud father.
They also feel very related to other fishing families, figuratively and sometimes literally, as some have intermarried. They know each other, experience the same challenges and enjoy the same successes.
The Peterson brothers realize that the industry needs to be better known and respected for bringing a quality product to market. "We need to make more people aware of who we are and what we do. I'd invite anyone who's interested to contact us, and we'll show them around our operation," concludes Joel.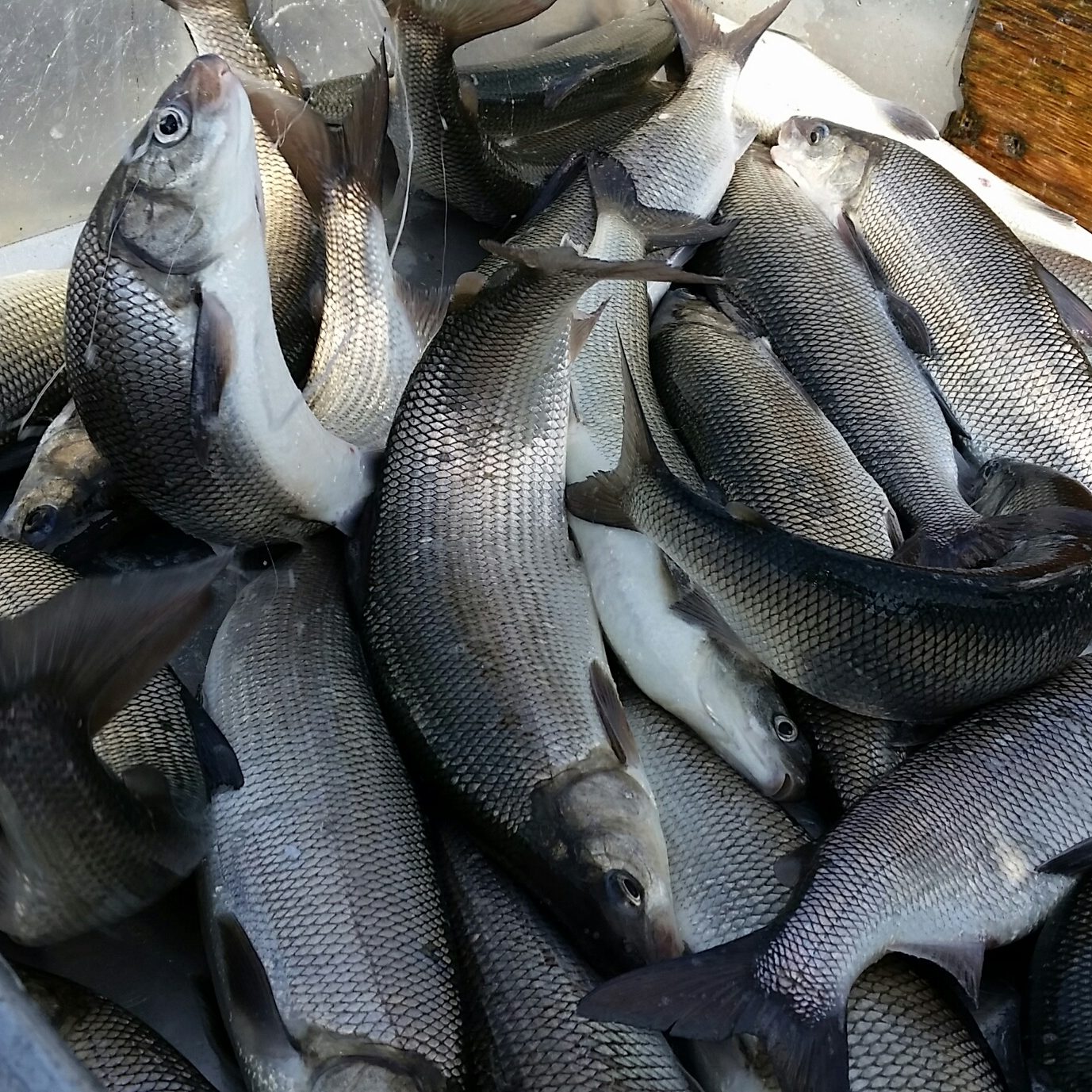 SERAFIN FISHERY

Fishing for Generations in Lake Huron and Saginaw Bay
Click To Read Their Story
Jerry Serafin has been fishing in Saginaw Bay for over 40 years. The fishery now is run by Jerry and his son Dana Serafin.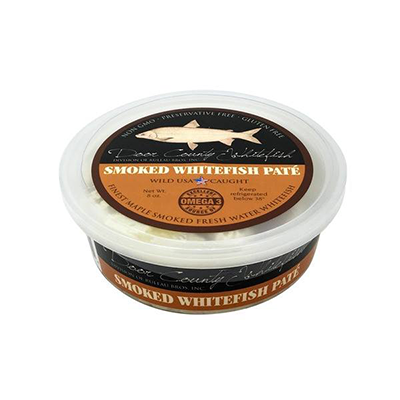 RULEAU BROTHERS, INC. (CEDAR RIVER)
Ruleaus stay afloat in the fishing business by adapting.
Click To Read Their Story
7th Gen. Lake Michigan Commercial Fishing Family. The Ruleau Brothers process fresh, frozen and smoked fish at their 40,000 sq. ft. facility in Stephenson, Mi.
New endeavors include our highly rated and "Organic" DOOR COUNTY SMOKED WHITEFISH PATE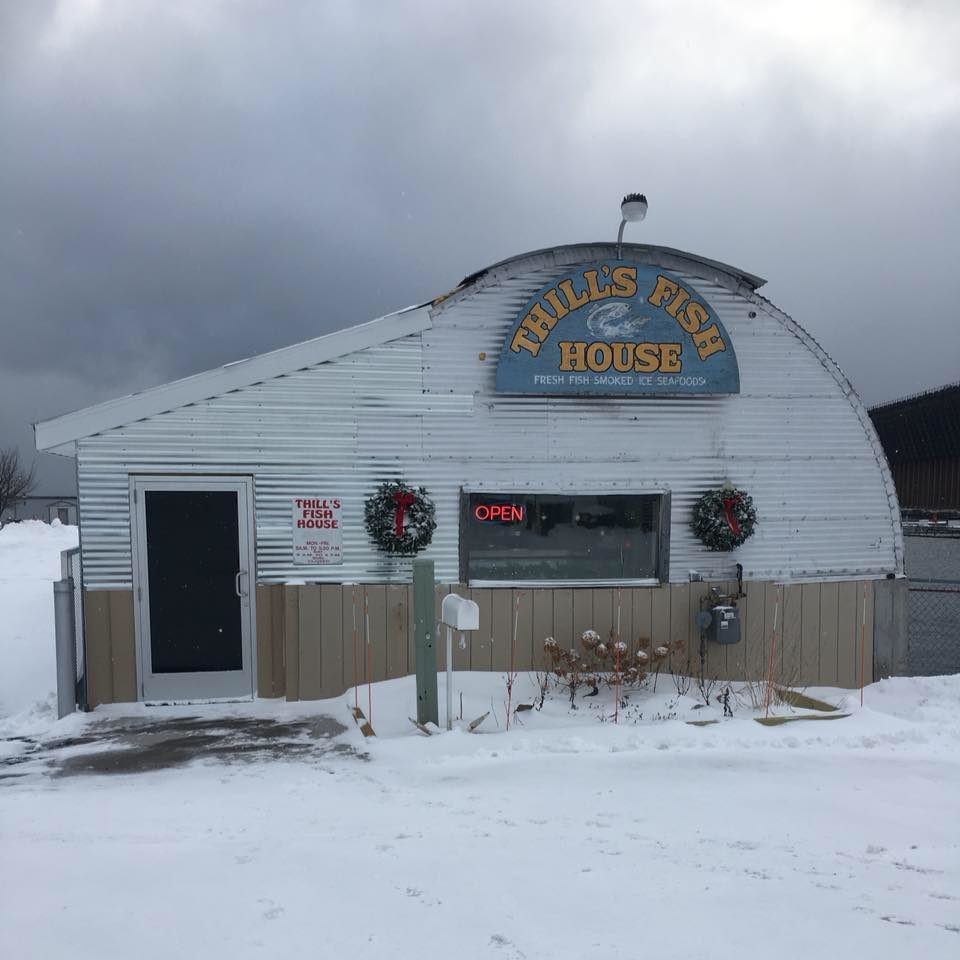 THILLS FISH HOUSE
It's all about fish – through thick and thin.
Click To Read Their Story
You'll find the Thills' whitefish on the menu of Marquette's finest restaurants. You may also buy it fresh or smoked at their retail shop on the Marquette waterfront. Their trap net boat is docked right behind it, lending to the atmosphere of a family that's all about fishing.
The first generation of Thills arrived in Michigan's Upper Peninsula more than 50 years ago. Francis moved from Fairport and Garden on Lake Michigan to Munising and Marquette on Lake Superior in the late 1950s. His sons and grandsons took up the occupation that has supported them since and contributed to the local economy. He opened the retail store in 1961, and son Ted remembers that people kept coming to the door, so they put in a case.
Ted has worked in the business all his life; remembering experiences on a herring boat in his early teens. "It was like doing your chores; I never got sick on the boat." When he got married, it was natural for him to settle into the business and establish his family. Initially their mainstay was chubs and herring. He, older brother Ron and now-retired brother Jerry have stayed with the business through thick and thin.
Now they do more retail business than shipping out. They can sell what they catch, as well as what they buy from other local fishing operations. They fillet more than they ever used to. The store handles other species, but their main sale is whitefish. "We kind of encouraged people to go to whitefish, and, as they did, they found that they like it as good as trout, or even better. It's a nice mild fish," Ted says.
Ted's two sons are in the business now, too–Dan for more than 10 years, Adam for three. He thinks they will stay with fishing for awhile. He's on the boat when a third man is needed, setting and pulling nets with his sons. Up until 2006, he was setting all the nets. Now he lets Dan run the boat and just pulls anchors off and runs the rowboat around. He tries to do the least amount of work, and says it's their turn now.
Owning his own business has been satisfying, Ted says. "You're not answering to anybody but yourself. You work a lot more longer hours, that's for sure, but I think about an eight hour job and I don't know what I'd do with the rest of my time. I don't know if there is anything I don't like about it. Sometimes the worries are a headache. I guess if you are working an eight hour day job somewhere else, you are letting someone else have the headaches…those worries."
And might still another generation come into the business? According to Ted, both his grandsons are interested. "They both have their bibs and boots down there hanging on the hook. They both like to play with fish. I don't doubt that they will be involved in it…I don't know how much…but they'll be involved in it."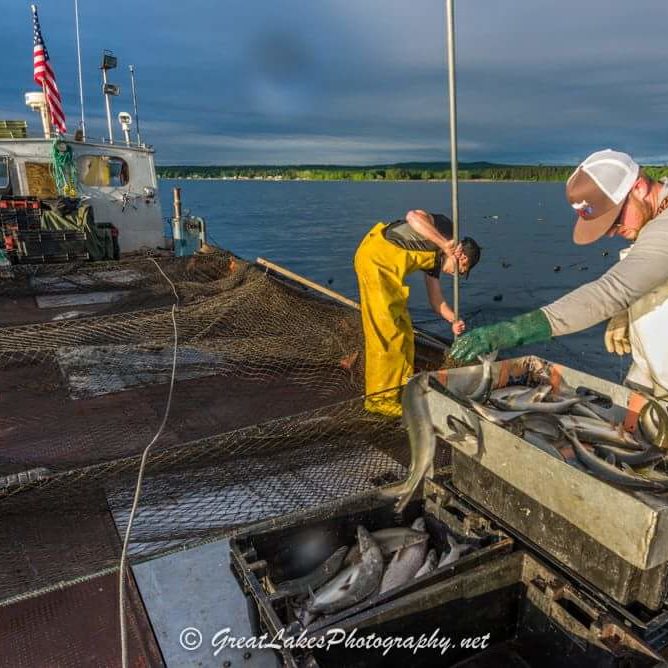 VANLANDSCHOOT & SONS

VanLandschoots work as a team—from net to sale
Click To Read Their Story
Grandfathers, fathers, sons, uncles, brothers and cousins have all played a role in the VanLandschoot & Sons Fishery for more than 100 years, either fishing under the ice in Bay de Noc on Lake Michigan as they used to or out of the three Lake Superior ports they now use. The current company owners Dennis Van Landschoot and his cousin Paul are proud of their heritage and have been involved in fishing one way or another, since they were preschoolers.
This is the VanLandschoot's life's work, and they do it well, taking great care to market only top quality fish. The company now employees 5th generation VanLandschoots. Their Belgian grandfather Phil, who started this family's business in 1914, would be so proud.
The VanLandschoots set trap nets off the Keweenaw Peninsula, as well as closer to their home port Munising, so they're constantly on the go during fishing season. Starting at 3am, heading to the Keweenaw Bay and back (a 360 mile roundtrip journey) the fishermen try to be back to Munising with the iced day's catch before night fall.
They hope to haul in enough prized Lake Superior whitefish to cover their fuel and other costs. The boats get only a mile per gallon and those costs have been rising faster than the price they get for their fish. It's a close call sometimes, but when fishing is good, the weather is fair and the price of fish is reasonable….it's hard to beat.
The VanLandschoots arduous and sometimes hazardous work pays off with benefits not measured in money. Paul's physician recommends the fresh air and physical exercise for his health (perhaps a bit enviously himself because his work keeps him in an office or the hospital). The VanLandschoots plan to keep the business going as long as they can.
One question they, and many fishing families face is whether the business will continue to thrive with the next generation. Like so many others in commercial fishing, VanLandschoots have encouraged their children to develop interests and pursue education that have taken them away from their home port…for now. The business succession plan is always a work in progress.


Johnson Net and Twine
859 Talbot Trail
Wheatley, ON N0P2P0
519-825-7218
1-855-825-7218
info@johnstonnetandtwine.com
www.johnstonnetandtwine.com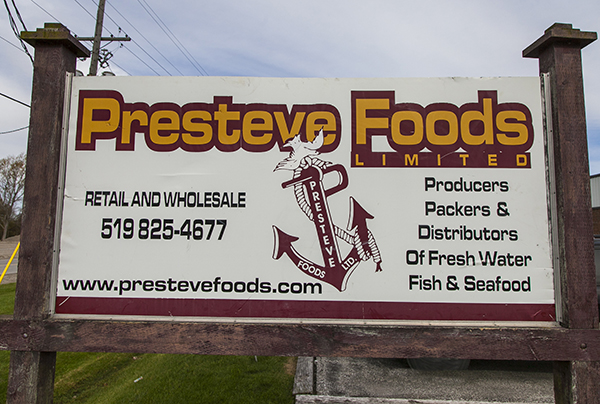 Presteve Foods Limited
20954 Erie Street South.
P.O. Box 902
Wheatley, Ontario Canada, NOP 2PO
519-825-4677
info@prestevefoods.com
www.prestevefoods.com